Pay Per Click Management
A successful pay per click campaign targets relevant prospects through keywords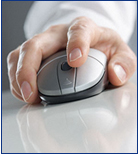 and then converts them into performing some action on strategically developed landing pages. And it does so in a cost effective manner.
Certified by both Google AdWords and Bing Ads I work with reps from both companies to ensure my clients are taking advantage of the latest features. With more than 10 years' experience in online marketing, I can help your business grow.
My pay per click management involves:
Strategic Marketing Campaign
Geo targeted campaigns
Competitor analysis
Keyword research
Ad copy creation
Custom landing pages
Conducting A/B testing on ads to obtain the best click through rate.
Improving Quality Scores to constantly bring down the costs involved.
Optimizing existing landing pages to ensure that they convert
Developing mobile specific campaigns
Call tracking
Managing your budget to keep to your monthly spending limit and get the most value from it.
Detailed analysis and ongoing keyword research
Track, analyze and report on results.
I offer pay per click management packages that are based on the size of your account.

As the campaigns run, I'll constantly review their effectiveness, and their cost, to make sure you continually staying ahead of your competition. Contact me today to learn how I will help you generate qualified leads to your business in a cost effective manner.
Higher Return On Investment
All Star Luxury Coaches was spending more than $2.50 for each ad prior to my taking over their campaign. Today they pay less than 50 cents per ad resulting in five times more traffic for their ad budget. To learn more click here.
All of my work is in compliance with Google Adwords Policy. You continue to have access to your account as I link to it through our Client Center. You can unlink our account at any time and I will supply monthly reports on what I've done and your total spend.