Content Marketing
"
Make sure that your site adds value. Provide unique and relevant content that gives users a reason to visit your site first."
Google's Webmaster Guidelines
Why do you need content for your website? Quality content a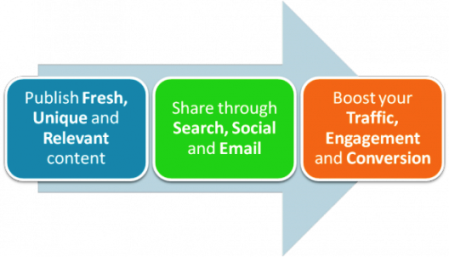 ttracts the attention of the search engines, connects your business with prospects and improves conversion rates. Content will make your business stand out from the competition and relieve any doubts a prospect has about doing business with your company. Studies show that sites that regularly develop new content generate 28% more visitors than those that don't.
Content marketing involves generating material for your site, your blog or social media that:
Ranks for phrases that your prospects are using to search for your products or services
Develops brand awareness about your business
Assists in lead nurturing campaigns
Generates qualified leads
Establishes you and your company as an authority in your field
Provides information that will lessen the demands of your marketing team, sales team and even human resources.
Any page, PDF, or video on your site could be a possible entry point to your site. If the content has value than people will link to it and these links will impact your rankings.
This content could be for your website or for social media. Content could involve:
Posts in a blog
White papers
Optimized pages of your website
Videos
Case Studies
Newsletters
Infographics
Email
Postings on social media sites.