For many of those in manufacturing, SEO is a top priority for their marketing, as it is for many businesses. They are realize that to reach consumers or other businesses they have to target the phrases these potential clients are using to look for what they manufacture. This is true, but SEO is just one element of what should be a more comprehensive online marketing strategy.
SEO is certainly important as it connects prospects with manufacturing companies. Yet, just because it brings them to a site, doesn't mean they'll pick up a telephone or fill out a form. It's like inviting hundreds to a trade show only to have them show up, but not visit your table. To get them to stop at your table or to fill out a form you have to have engaging content.
SEO and Manufacturing – the first step
SEO always begins with keyword research, whether a business is in man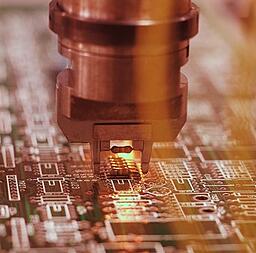 ufacturing or selling clothes online. The problem with many B2B companies or manufacturers is that there just isn't a lot of data available. The number of searches is typically much smaller. To augment a keyword list the best option is to test out phrases using pay per click. This way you can test out phrases you think they might be using and either prove yourself correct or lead you to words that you didn't expect.
The benefit of pay per click is that you can generate data quickly. The problem with it is if there are only a few phrases for a manufacturing company to target, it's likely to be very competitive unless you somehow have the field to yourself. This probably isn't very likely. Even if no one clicks on an ad, however, you still get information by the number of impressions your phrases receive.
One you have your phrases you need to incorporate them into the pages of your site or create new content around them. Then you need to generate links to these pages, ideally using anchor text that contains your targeted phrases. Getting these links involves more than what it once did. You can't just buy the links, as this will get you penalized. You have to earn them.
Content Marketing and Manufacturing – the Second Step
By now most businesses are familiar with content marketing and its potential. Yet, they may have a limited picture of what content marketing is and what it can accomplish. White papers, blogs, and videos are the most obvious mediums in which to talk about your products and how they can be used. Case studies are another potentially effective manner in which to highlight the benefits of the products you manufacture, particularly if you have testimonials.
The benefit of having quality content is not just that it will convert prospects, it might result in people linking to it. This is the best way to generate links to your site and why you should entrust your content to someone with a writing background. Ideally a writing background, as well as experience in marketing.
Content marketing can also generate revenue by alleviated the demands on your staffs time. For sales people content can answer many of the most common questions prospects might have, so that when they do call, the emphasis could be on closing the sale. It can also help other departments such as human resources and customer service.
Social Media and Manufacturing - the Third Step
There seems to be two groups when it comes to social media. That it's the greatest thing ever invented for marketing and those that believe it can never lead to a sale. The truth is somewhere in between, even for manufacturers. You're not looking to generate a lot of followers on Facebook and except it to sell some compressors. Yet, there are some mediums that might help with a sale or at the very least lower your overhead.
LinkedIn is the best place to start, particularly if you're selling to other businesses. This begins by having an in-depth company profile and having many of your top employees fill out their profiles. Incorporate in the descriptions some of the phrases you targeted with SEO. Although it can be costly, running an ad campaign on LinkedIn can be remarkably effective provided you run a targeted campaign. Have the reach be potential prospects. If you're market are contractors, then run ads that only those in this industry see.
Be active on LinkedIn, as well. This means participating in the many groups that are likely available related to your industry. And if you've been developing content, particularly through a blog, then share this on LinkedIn.
Content should also be shared on Twitter. Twitter can also be a way to connect with other business owners. Most often if they have a Twitter account it could be found in their LinkedIn profile or on their website. Most likely they'll at least check out your profile once you begin following them and if you're of interest they'll follow you back. Don't use it as a way to pitch a sale to them, but instead demonstrate your knowledge of your industry. And occasionally mention something about new products you're offering or an upcoming sale.
The way that manufacturing companies makes sales has changed. Sending out catalogs or brochures has lost their effectiveness. And cold calling is even tougher to succeed at, thanks to the many distractions busy executives face. This is why SEO should be part of a manufacturing company's sales process, as should content marketing and social media.
If you work in the manufacturing industry and looking for assistance with generating business online, then contact me at my agency Ad Hoc Marketing. I've worked with manufacturing companies of all sizes and whose market isn't just the U.S., but worldwide.