Gain A Competitive Edge With a Google AdWords Consultant

If your Google AdWords campaign is failing to get you conversions, then contact me today.
As a Google AdWords consultant, I find and manage the right keywords for your business to be successful. Involved in online marketing since 2004, my strategies comes from years of working on thousands of campaigns. A Google AdWords Partner, I help you reach prospects in a way no other marketing platform can.
Here is what you can expect with my services:
DEDICATED PERSONAL ACCOUNT MANAGER- have a Certified Google AdWords Partner running your entire campaign

TARGETED CAMPAIGNS – reach prospects in your market at the moment they're looking for what you offer.

CONTINUOUS TESTING – what keywords convert the best, which ads receive the best response, and how landing pages can be tweaked to improve conversions?
MOBILE MARKETING - more than half of all searches are done on mobile devices. Incorporating mobile is crucial to most businesses success.
DATA DRIVEN MARKETING – thorough examination of reports and analytics to constantly improve your campaign. Certifed in Google Analytics I review the visitors to your site and the actions they take.
ADWORDS GETTING INCREASINGLY COMPLICATED - new features are constantly being added and your campaign will incorporate the features that will benefit you the most. Last year there were over 250 changes to AdWords.

ELIMINATE WASTED SPEND - monitor for wasted clicks, low performing keywords, and missed opportunities.

INCREASE CONVERSION RATES - the ultimate goal of all campaigns is to increase conversion rates, whether it be to sign up for something or to make a purchase.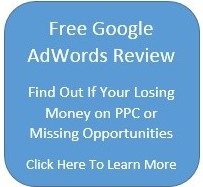 ONGOING REPORTING – Know what is being done with your campaigns and why and how effective they are.
My pay per click management plans are designed to help a business grow dramatically. Contact me today if you're tired of attempting AdWords on your own or feel as if you're current agency is letting you down. I offer a free evaluation of AdWords Campaigns that spend over $5,000 a month. As a Google AdWords Consultant, my fees are often recouped in the first month of work.
More Than Just Google AdWords Management
I can also assist with the following advertising platforms.